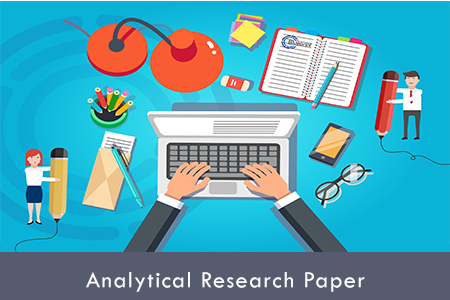 Unlocking the Secrets of Analytical Research Papers: A Comprehensive Guide
Analytical research papers, as the name suggests, are all about diving deep into a specific topic, making them a preferred choice for teachers aiming to improve their students' writing and analytical skills. While analysis itself might not be a problem for students, the challenge often lies in translating their ideas into well-structured and coherent written form.
Analytical research, at its core, enhances a student's ability to broaden their perspectives, expand on ideas, and think critically. This analytical approach isn't just about academic exercise; it equips students with skills applicable to their practical lives.
To embark on a successful journey in analytical research paper writing, it's essential to not only grasp the topic but also to dissect it from multiple angles with a keen eye for detail. Without this analytical foundation, expressing your thoughts and insights effectively becomes an uphill battle.
Another critical aspect of analytical research paper writing is the format. An organized structure is paramount for conveying your ideas clearly and making a lasting impression on your readers.
In this comprehensive guide, we will walk you through the essential steps to master the art of analytical research paper writing, covering everything from crafting a compelling introduction to structuring the body and delivering a powerful conclusion.
Important Steps for Crafting an Analytical Research Paper
Step 1: Introduction Writing
Introduction: Laying the Foundation
The introduction serves as the foundation of your analytical research paper. It's the stage where you introduce the problem you'll be addressing throughout the paper, usually presented in the form of a thesis statement. To create an engaging introduction:
Clearly state the problem.
Provide a brief background on the topic.
Offer a glimpse of what readers can expect in the later sections of the analytical paper.
Ensure a seamless transition from the introduction to the body of the paper.
Step 2: Body Paragraph Writing
Building the Core: Body Paragraphs
The body of your analytical research paper is where the real work begins. It's here that you present your methodologies and engage in an in-depth discussion of the problem introduced in the introduction. To construct an effective body:
Divide it into multiple paragraphs, each addressing a separate analytical point.
Ensure the ideas presented are relevant to the subject matter.
Utilize transition words and sentences to maintain coherence between paragraphs.
Step 3: Conclusion Writing
The Culmination: Crafting the Conclusion
The conclusion of your analytical research paper is the climax of your entire work. It's the point where you sum up your findings and reassert your thesis statement. To create a compelling conclusion:
Reiterate your thesis statement to make a convincing claim.
Avoid introducing new or extraneous information that may confuse the reader.
If you're unsure about composing a lengthy conclusion, consider summarizing the key points of your analytical paper in a concise paragraph.
FAQs About Analytical Research Papers
1. What Is an Analytical Research Paper? An analytical research paper is an academic document that focuses on a specific topic, subject, or problem, and analyzes it in-depth. It aims to break down complex ideas, evaluate evidence, and draw conclusions based on a critical examination of the subject matter.
2. How Do I Choose a Suitable Topic for My Analytical Research Paper? Select a topic that genuinely interests you and is relevant to your academic field. Ensure the topic is specific and researchable, allowing for an in-depth analysis.
3. Can I Use First-Person Pronouns (I, We) in an Analytical Research Paper? While first-person pronouns can be used sparingly, it's generally recommended to maintain a third-person perspective for objectivity in academic writing. However, always check your instructor's guidelines for specific requirements.
4. What Are Transition Words, and How Do I Use Them Effectively? Transition words are words or phrases that connect ideas and paragraphs, making your writing flow smoothly. Examples include "furthermore," "however," and "in addition." Use them to enhance the coherence of your paper.
5. How Do I Avoid Plagiarism in My Analytical Research Paper? Avoid plagiarism by properly citing all sources you reference in your paper. Use a citation style (e.g., APA, MLA, Chicago) as required by your institution, and always attribute ideas, quotes, and information to their original sources.
6. Can You Provide Tips for Conducting Effective Research for an Analytical Paper? Conduct thorough research by utilizing academic databases, reputable journals, books, and authoritative online sources. Take notes, organize your findings, and critically evaluate the credibility of your sources.
7. What Makes a Strong Thesis Statement in an Analytical Research Paper? A strong thesis statement should be clear, specific, and arguable. It should outline the main point or argument of your paper and provide direction for the reader.
Mastering the art of writing analytical research papers takes time and practice, but with a clear understanding of the process and the tips provided in this guide, you can confidently approach your analytical research paper assignments. Remember, analytical skills developed through this process are valuable not only in academia but also in your future endeavors.