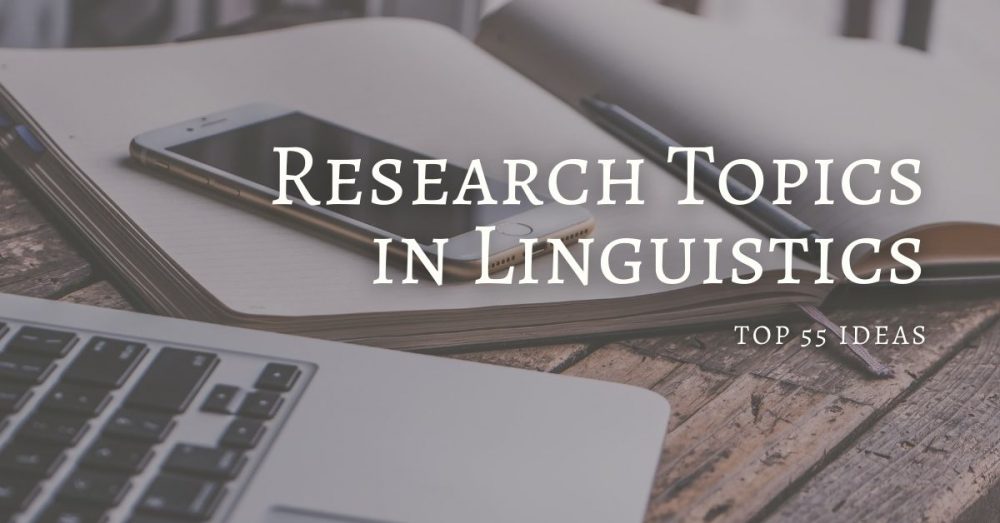 Are you experiencing difficulty picking a linguistics dissertation title? Linguistics dissertation topics are frequently considered as a different and complex subject that includes a sharp investigation of linguistics, structure, semantics, and history of different dialects.
Also, check related posts for French dissertation topics and English dissertation topics.
Language may appear as a single word, but it is a complete discipline having its own diverse areas and domains. Linguistics dissertation topics cover all these areas such as phonology, structure, semantics, applications, and many others as well.
Different languages are spoken throughout the world, and each has its own specific areas. Linguistics thesis topics also cover the differences between different global languages and their structures as well as functions.
Applied linguistics and socio-linguistics are the two most widely researched areas of investigation in the field of linguistics on a global level.
List of Top Linguistics Dissertation Topics and Ideas for college students
Given below is an interesting list of research topics in linguistics:
Historical analysis of systematic functional linguistics: connecting past with the present and the future.
Undergoing critical discourse analysis using corpus linguistics methods: a review of the literature.
An integration between corpus linguistics and audiovisual translation.
Understanding the link between resilience linguistics and orthography: a descriptive study.
Speakers of endangered languages: how linguistic training can help?
Structural linguistics and Saussurean linguistic thought: focus on emergence and development.
Using computational corpus linguistics methods to analyze continuous neuronal activity in natural speech.
Systemic functional linguistics and culturally sustaining pedagogies: understanding the relationships.
Low-level English language users in an education program: benefits of teaching linguistics.
The role played by linguistics in the domain of feminism: a systematic analysis.
Language teaching education and folk linguistics: a descriptive study.
Second language learners and cognitive linguistics challenges: a review of the literature.
Uncovering the Unknown Chomsky in linguistics: a qualitative approach.
Linking linguistics, ethnography, and evangelism: a descriptive approach.
Cognitive linguistics and fictive motion: understanding the relationship.
Place of ELT in the field of applied linguistics in X country.
How romantic mythopoeia has affected Khoesan linguistics? A descriptive study.
Historical analysis of clinical linguistics: connecting past with present and future.
Studying the relationship between structural linguistics and linguistics of universals.
Understanding language, linguistics, and literature in modern foreign languages: a descriptive approach.
Correlational analysis of cognitive neuropsychology, aphasia therapy, and clinical linguistics.
Research in applied linguistics: potential challenges and interventions.
Using systemic functional linguistics as a culturally sustainable approach towards academic language education.
Cognitive linguistics: conceptual complexity versus semantic complexity.
Problem-solving inference as a high-order cognitive skill in linguistics: a descriptive study.
The role played by language vitality and linguistics delivery in development of linguistics: a systematic analysis.
Descriptive analysis of structure and substance in linguistics.
Understanding the ethical practices in clinical linguistics: a review of the literature.
Descriptive linguistics in UK versus USA: a comparative analysis.
Language endangerment in 21st century: the role played by linguistics.
The role played by ethnology and linguistics in translation problems: a quantitative study.
Corpus linguistics: past, present, and future.
Educational linguistics in developed versus developing countries of the world: a comparative analysis.
Language learning and experimental linguistics: a grounded theory approach.
Effects of accountability and transparency in applied linguistics: a descriptive study.
The sensitivity of the distinction between English-restrictive and non-restrictive relative clauses for Chinese L2-learners
The effects of literature circles on Chinese foreign language immersion students' literacy-skills
Future directions for 'role and reference grammar': Distinctions to be drawn between Russian and English
An assessment of standardized and spontaneous language measures in late talkers
The interrelation between Cornish identity and Cornish dialect: A case study of two Cornish octogenarians and two Cornish twenty year old.
Gender in the community of practice 'University Caving Club': Phonological variation
The use of metaphor as a motivator for change: Differences in Obama's rhetoric between the 2008 and 2012 presidential elections.
How Another Set of Linguistics Become the Norm: The Way Technology Changes Communication
How Neuro-Linguistic  Programming (NLP) Can Reduce Negative Power of Words for Trauma-Victims
The Rapid Development of Language: How Childhood Can Make or Break-Speech
To compose an excellent paper, it would help if you had the option to break down and reach robust inferences on a few zones of linguistics to demonstrate your insight and competency in control. Above is the list of linguistics dissertation topics, and you can choose one to make your dissertation exceptional.