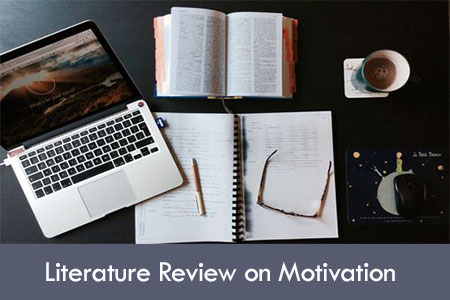 Effective Tips and Topic Ideas for Your Literature Review on Motivation
If you want to make sure that your company is productive and efficient, you must know how to motivate and encourage your employees to give their optimal performance. And when you are writing a literature review on motivation you are required to get more ideas to make it as good as you can.
I'm sure that it is not a surprise for you to know that motivation is one of the most researched themes in the world. As the markets are becoming more and more competitive, it has become important that employees are kept motivated and productivity is maximized.
So whether you are a student studying human resources or a manager in an organization, motivation is a significant topic to study. This can also pertain to increasing the motivation levels of students.
For organizations, you can also choose an important aspect like strategic goals or objectives, motivation techniques, and schemes, incentive programs and compensation packages, and individual's and team's behavior and study how and to what extent it impacts employee's motivational levels.
But before we move on to a few ideas for literature review on motivation, lets answers this:
What is motivation?
According to TanjaLins in Motivation and Second Language Learning
"It is the process whereby goal-oriented activity is instigated and sustained"
Below mentioned are some topics in the context of motivation that can provide you with awesome ideas.
Intrinsic motivation and self-determination in human behavior
The need to belong: Desire for interpersonal attachments as a fundamental human motivation.
Achievement goals in the classroom: Student's learning strategies and motivation processes.
The role of Expectancy-Value Theory of Achievement in an employee's motivational level
Expectancy-Value Theory of Achievement Motivation
Motivation in the classroom: Reciprocal effects of teacher behavior and student engagement across the school year.
Enhancing motivation for change in problem drinking:
The Academic Motivation Scale: A measure of intrinsic, extrinsic, and motivations in education
Psychology of concerns: Relationship between motivation and spirituality
Examining the relationship between parental involvement and student motivation
But remember that before finalizing your research topic you need to make sure that you will find relevant articles on your selected research topic. These articles of previous studies will give you an idea of the econometric tests and studies that can be used in your research and the probable outcome that you can expect.
After deciding the theme of your research, you can go through all the past articles that are relevant to your study and make a conceptual map for the study. This will help give a direction to your study which will make the process of report composition easier for you.
So, whether you want to write a literature review on motivation for your university thesis or your organization, the above-mentioned topics will be a great forum for inspiration for your research study.