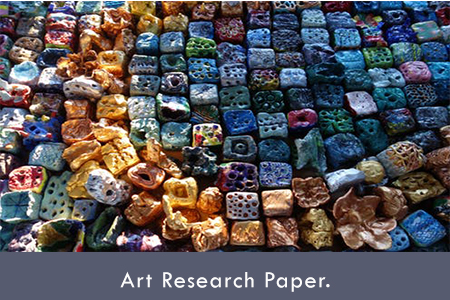 Simple Art for Writing Simple Art Research Paper
For writing an art research paper, you don't need to be a Pablo Picasso or Leonardo da Vinci, you will just have to improve your writing skills and develop an eye for art, that's it! Art is undoubtedly a broader scope covering innumerable aspects. Therefore, you can write from painting to history to aesthetics, etc. but a roadmap is uttermost important for developing any kind of topic for it.
By roadmap, we mean to say there has to be a guideline that takes you through the step by step process of writing an art research paper
before the final submission. If you have been assigned to write the same paper then you must read the following step by step process for writing grade winning art research paper.
First step:
How to choose a topic?
Who is your target audience? Do you know what a reader wants to read? If you know the answer then there is no way you can't craft a good title for yourself. Just make sure of two things that are it should be intriguing and according to the need of your target audience.
Second step:
How to collect information?
Gather all the information pertinent to the topic of this research paper by consulting various resources. An ideal way, to collect more information is to refer to the bibliography section of the resources. Search for those resources and get in-depth information on the subject
Third step:
How to write an introduction?
An introduction is a key place where a reader decides moving on to the next level of an arts research paper, so it should be cultivated well. An ideal introduction would deliver a glimpse of what the should reader expect in the coming paper and a thesis statement. A thesis statement is a one-line identification of a problem that will be solved in the later part of the research paper. So, you can say that a thesis statement is the backbone of the paper. You can take an idea of writing a good thesis statement by the given example: On the topic of Guernica by Pablo Picasso.
"Guernica is the biggest example of the tragedy faced by civilians in the catastrophic Spanish Civil War"
Fourth step:
How to write the body paragraphs?
The body is an elaborated version of introduction; here each and every issue that was pointed out in the introduction is discussed in detail. If we take an example of the anteceding thesis, the body should comprise of several paragraphs in which first would be discussing the history of painting, Guernica. The rest of the paragraphs would be discussing each icon depicting the tragedy of war in the painting, Guernica.
Fifth step:
How to write a conclusion?
The conclusion should consist of a single paragraph encapsulating every issue that has been discussed until now in the body of art research papers.
Hence, in the end you must properly document all the resources according to the format recommended by your teacher.